Thank you so much for your photos. It's great to see all the lovely things you have been doing.
This week, we are going to start our new story 'Shark in the Park! by Nick Sharrett. It's one of our favourites! Timothy Pope has a brand new telescope and goes to the park. He looks up at the sky, he looks down at the ground, he looks left and he right and looks all around. All of a sudden he sees a big black fin. "There's a shark in the park!" But is it really a shark? Or could it be something else?!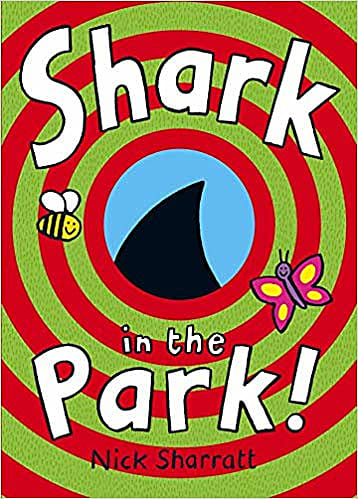 This term our theme is Pattern and Rhyme. Patterns are everywhere. We will use our telescopes to help us explore our world and find out more!
Would you like to hear the story?
Some activities to try at home
Get to know the story
Watch or read it together - pause at each silhouettte and guess what Timothy may have spotted.
Join in with Timothy's cry "There's a Shark in the Park" and other repeated phrases.

Talk about what you can spot on different pages. What else can you see in the park? Why does Timothy mistake a crow, cat and a Dad for a shark?

Ask what might happen next. Does Timothy turn around and see the shark in the pond?
2. Make a telescope (eg with roll of paper or kitchen tube)
What can you see inside and outside?

Act out the story - look at the sky. look at the ground, look left and right, look all around. What can you see?

Play i-spy (using the sound a word begins with eg sh for shoe)
3. Guess the Animal
4. 'Baby Shark Dance'
5. Find out more
Listen to this song The Underwater Song. What amazing facts can you find out about the creatures?
Have a great week!
Mrs. Payne, Mrs. Hardstaff, Mrs. Rockall, Mrs. Maxwell and Crow xxxxx
If you would like to listen to the story again read by the author Nick Sharrett, please follow the link below. He draws some of the characters too.